LoR Fight Night Legends week 1 standings
Eight of the best competitive Legends of Runeterra players were invited to compete in the first Fight Night Runeterra, which is hosted by Giant Slayer TV. 
Expanding the boundaries of competitive play in LoR, the format for Fight Night Legends consisted of a double-elimination bracket with eight invited players. Each match was in the best-of-three format with players bringing two decks that weren't allowed to overlap regionally. For a player to win a match, they had to win with both decks they brought. 
Just two days after the release of the LoR balance patch, players brought a mix of new and foundational archetype builds to play at the first Fight Night Runeterra. 
Round one
A total of players in round one moved onto the winners' semi-final bracket while those who lost got a second chance in the losers bracket. 
Presto vs Nolagold
Game one featured Presto playing Ezreal/Karma against Nolagold's Warmother deck. Presto earned himself a win, hitting Nolagold to face for 20 damage.
Nolagold went on to win game two, with a matchup between Braunivia vs. Warmother. Game three featured Presto on Braunivia against Nolagold's Miss Fortune/Gangplank Aggro. But Aggro fell just short with Presto earning his first match win. 
Also playing in round one was Hyped against Sudrakon with the Team Liquid Pro sweeping Team IQ for a match win and a spot in the winners' semifinal. Winding God was paired against Cephalopod who surprisingly brought a Scout deck to play. But it wasn't enough with Winding God winning the match 2-1. 
The final match of round one was between Team IQ Iannogueira against the first player to number one in the LoR Master tier EU, Fresh Lobster. Each player won a game, forcing a game three. Iannogueria was on Zed/Lucian against Fresh Lobster's Braunivia, who found himself at a disadvantage on turn eight and defeated by turn nine. 
Round two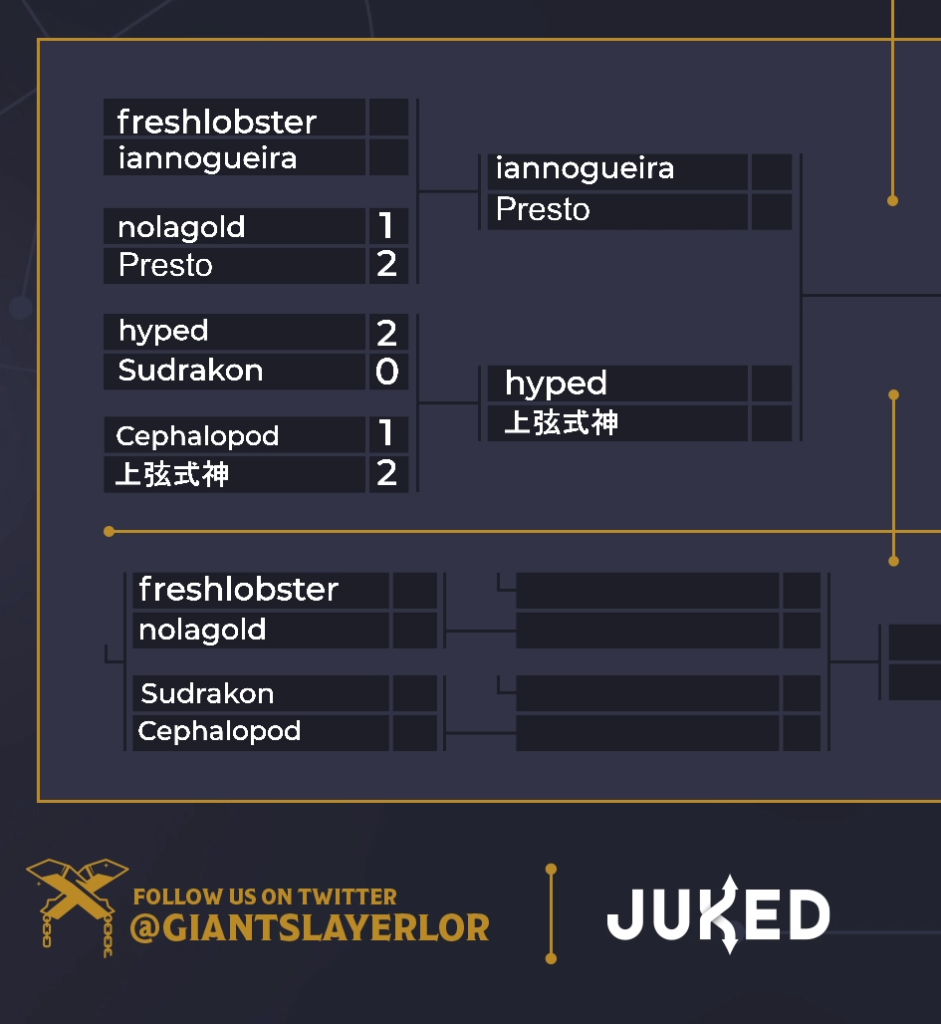 Game one went to Winding God playing Viemerdinger, with him switching over to Ashe/Sejuani (Noxus). Hyped played Draven/Darius in game one but switched over to Viemerdinger in game two.  But it wasn't enough, with Winding God moving onto the Winner's Final to face off against Presto
Hyped wasn't out yet, though, moving to the lower bracket to face off against Nolagold. The matchup between Fresh Lobster and Nolagold was intense, with each player earning a game win. It was Nolagold's match to win, however, as Fresh Lobster was unable to draw his Ezreal soon enough. 
Also facing off in the losers bracket was Cephalopod against Sudrakon, with Cephalopod advancing after sweeping Sudrakon out of the tournament, facing off against Iannoguiera in the losers quarter-final.
Round three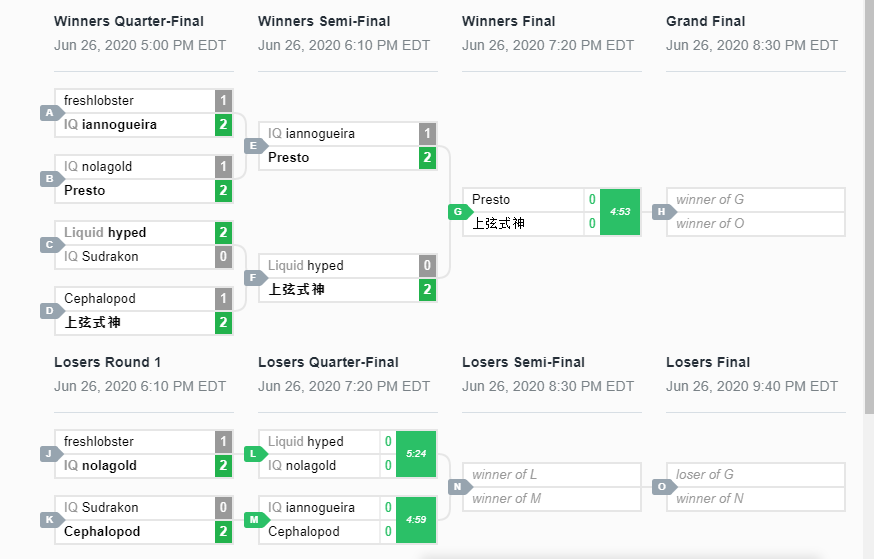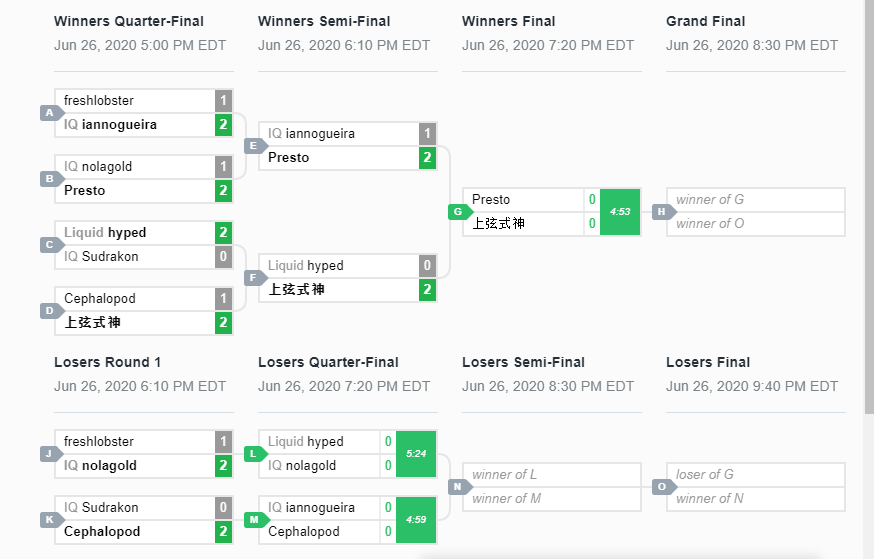 Fighting for a seat in the grand final match was Presto against Winding God. The winner of this match would also guarantee themselves a seat in next week's Fight Night Legends. 
 Living up to his reputation in tournament play, Winding God swept Presto, advancing to the final match. Presto wasn't out yet, though, moving to the losers' final slot in the double-elimination bracket. 
Cephalopod also kept up their win streak, sweeping Iannogueira in the losers quarterfinal.
The other losers quarterfinal featured Hyped against Nolagold and it was a true battle. Each player earned a game win with game three featuring Hyped playing Viemerdinger, and Nolagold on Warmother. Leveling up Vi with Heimerdinger on the board, Hyped knocked out Nolagold and advanced to the losers semi-final.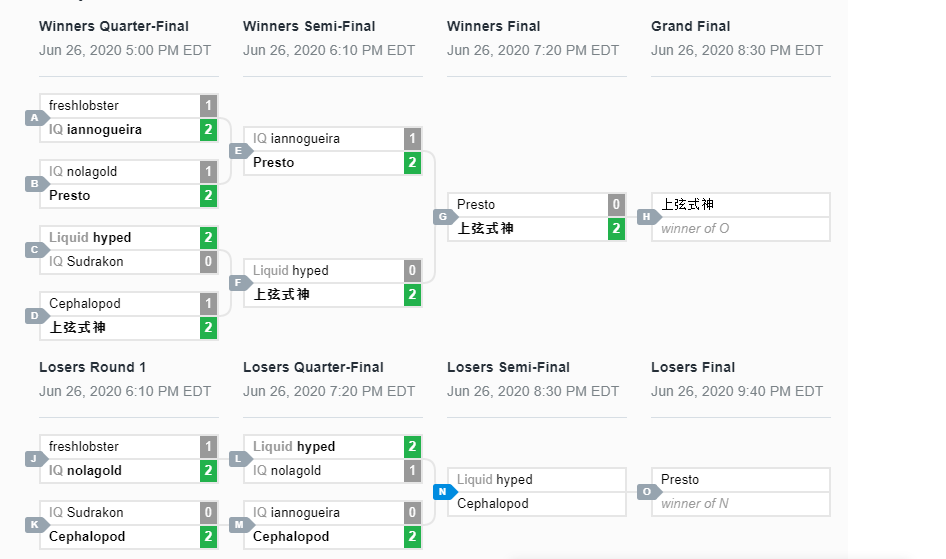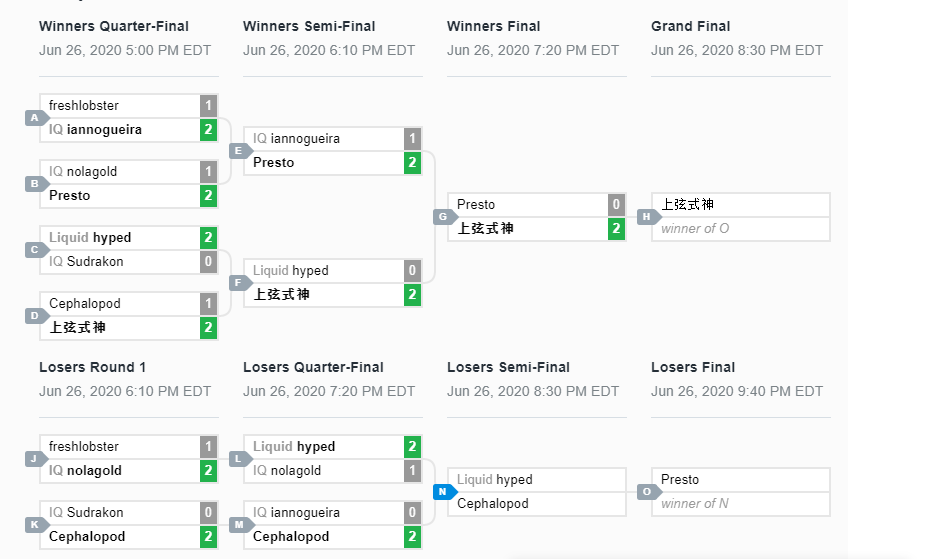 Round four
Cephalopod and Hyped battled it out in the losers semi-final match for a chance to face off against Presto and possibly earn a seat at the final. Hyped played his Draven/Darius Aggro deck in game one against Cehpalopod's Scout build with The Harrowing earning Hyped his first game win. 
Game two featured Hyped on Viemerdinger, with Cephalopod staying on Scouts. Hyped seemed to have the second game in the bag but Cephalopod pulled out a win with Rally, and it was down to game three. Cephalopod switched over to his Braum/Swain deck while Hyped stayed on Viemerdinger. 
Similar to the second game, it looked like the match was Hyped's to win but Cephalopod pulled out a victory with double Leviathan on the battlefield and a Noxian Fervor. Hyped finished the first Fight Night Runeterra in fourth place and Cephalopod advanced to the losers final to face off against Presto.
Round five
Presto played Braunivia first while Cephalopod went with Braum/Swain. Noxus proved too difficult to beat once again earning Cephalopod the first game win. Presto chose to stay on Braunivia as Cephalopod switched over to Scouts in game two. A Rally couldn't save Cephalopod this time around and it was down to game three. 
In a face-off of Scouts vs Ezreal/Karma, Aggro had the advantage during the early game. Cephalopod quickly went to work on Presto's board state, taking out Ezreal on turn eight and dropping Presto down to two life. But Presto wasn't out just yet, staying alive by drawing Deep Meditation into Karma followed by another Deep Meditation. And in an amazing comeback, Presto bumps Cephalopod and advances to the final match. 
 Round six
Due to there being an upper and lower bracket, Presto needed to win the first best-of-three match followed by a bracket reset that would include a best-of-one match in which both competitors play a third secretive deck. 
Winding God kicked off game one with Ashe/Sejuani while Presto chose Braunivia, or Bald Eagle, as Blevins chose to rename the deck during the final match while casting with Casanova. Presto was at a disadvantage most of the game but came back in the end to earn the first win. 
The win forced Presto to play Ezreal/Karma in game two while Winding God chose to also switch over to his Viemerdinger deck. Karma fell flat, however, with Winding God earning a win. And in true competitive fashion, the pressure was on both players during game three. 
Winding God switched back to Braunivia while Presto remained playing Ezreal/Karma. Presto was able to drop an Ezreal early which Winding God took out on turn six with a Culling Strike. Sejuani dropped onto the battlefield the following turn, to which Presto answered with a Thermal Beam. And a leveled up Karma drawing Ezreal earned Presto the match win, forcing a final best-of-one match with the secretive decks from each player.
Round seven
Players had a choice to bring a new deck or chose an existing deck. Most players had picked a third non-lineup deck but Presto and Winding God both chose existing decks they already had entered. Neither player was aware of what the other chose until gameplay began. 
Winding God played Veimerdinger and Presto was on Bruanivia. Winding God was able to drop Heimerdinger early which Presto managed to take out. Able to keep his Elusives on the battlefield, Winding God brought Presto down to three Lifepoints, followed by two Mystic Shots to win the first Fight Night Legends. 
Winding God was the victor but both players would advance to the second Fight Night Legends next Friday.